DIY Paper Flowers: Easy Paper Wreath
Video Tutorial & Templates
Try your hand at paper crafting with this free paper wreath tutorial!
This paper wreath will become a wonderful embellishment for your home or a nice present for your friends or loved ones. Use paper of the colors we propose, or change the colors and create your unique design. In any case, you will have fun with creativity and enjoy a beautiful craft made with your own hands.
Our detailed video instruction is suitable even for beginners. You will make a paper flower wreath in just 3 hours.  Everything you need to make this wreath is listed below.
Want more paper decor ideas? See our collection of paper wreaths. Or browse all of the paper flower designs to see what else you can make.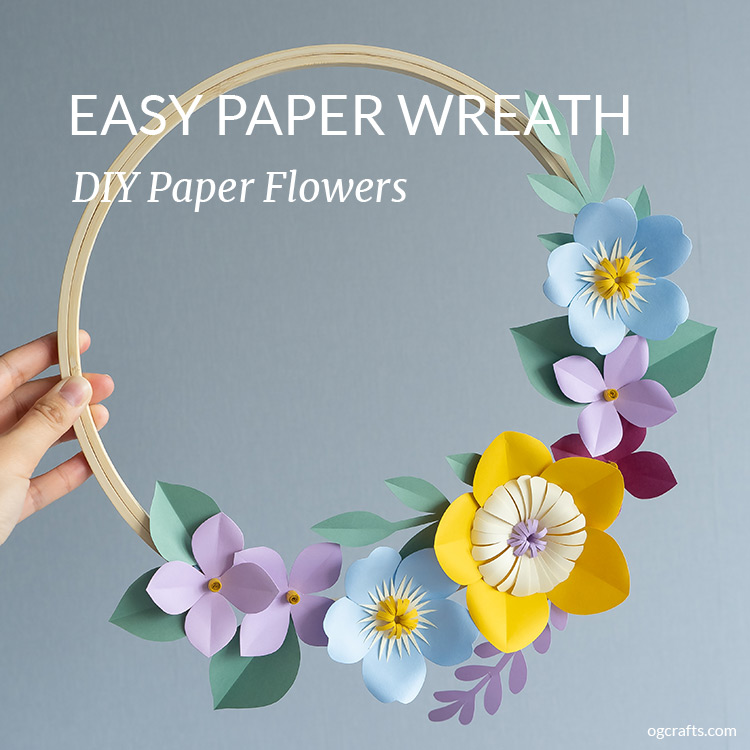 This paper flower wreath includes 3 types of flowers and 4 types of leaves. You can find free templates and a step-by-step video tutorial below. You can use a cutting machine, or print the templates and cut them manually.
This tutorial shows how to make a 30-cm / 12-inch diameter wreath. But you can choose a wreath base of any other size and vary the size or quantity of paper flowers and leaves to create your unique design.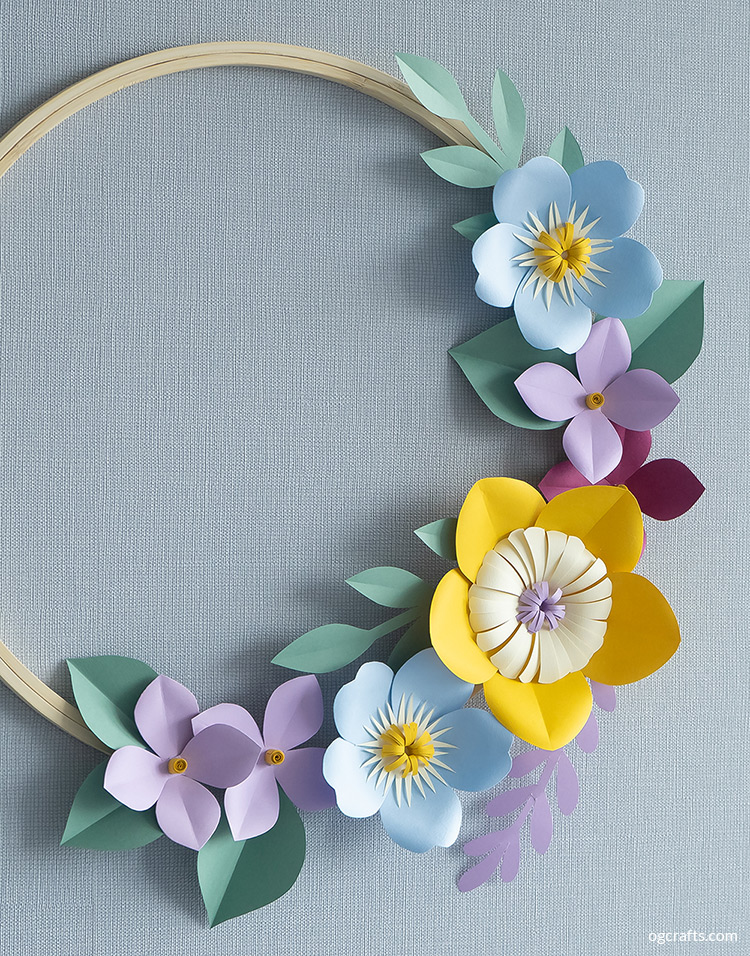 When you are ready to make your paper wreath, prepare the tools and materials (see the list below). Also, download the free templates and use a cutting machine or print the templates and cut them manually. Now you are ready – watch the video tutorial and start creating!
If you have any questions, please comment below. I'm always happy to help!
Tools
Cutting Machine

or

 Scissors

High-Temp Hot Glue Gun

Knitting needle 5 mm / 0.2 inch in diameter
Materials
Flowers and Leaves Templates (download below)

Yellow, Ivory, Light Blue, Light Violet, Burgundy and Green

 paper (I recommend 120-150 gsm weight)

Wooden hoop 30 cm / 12 inches in diameter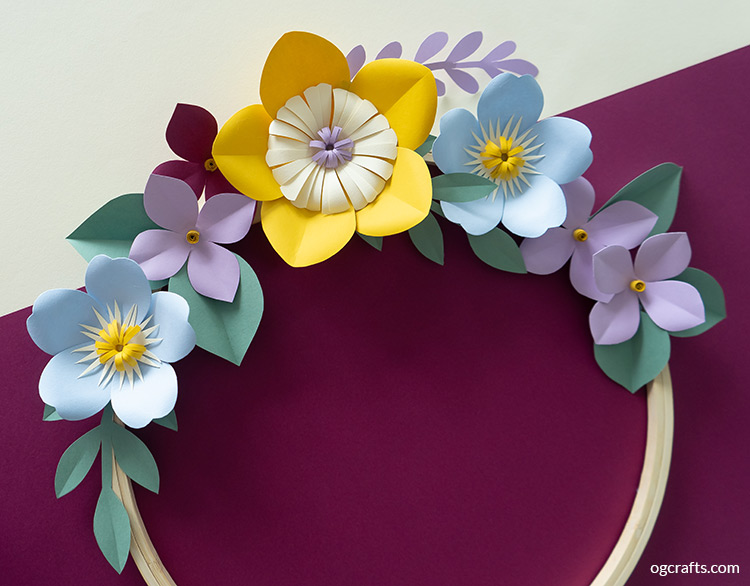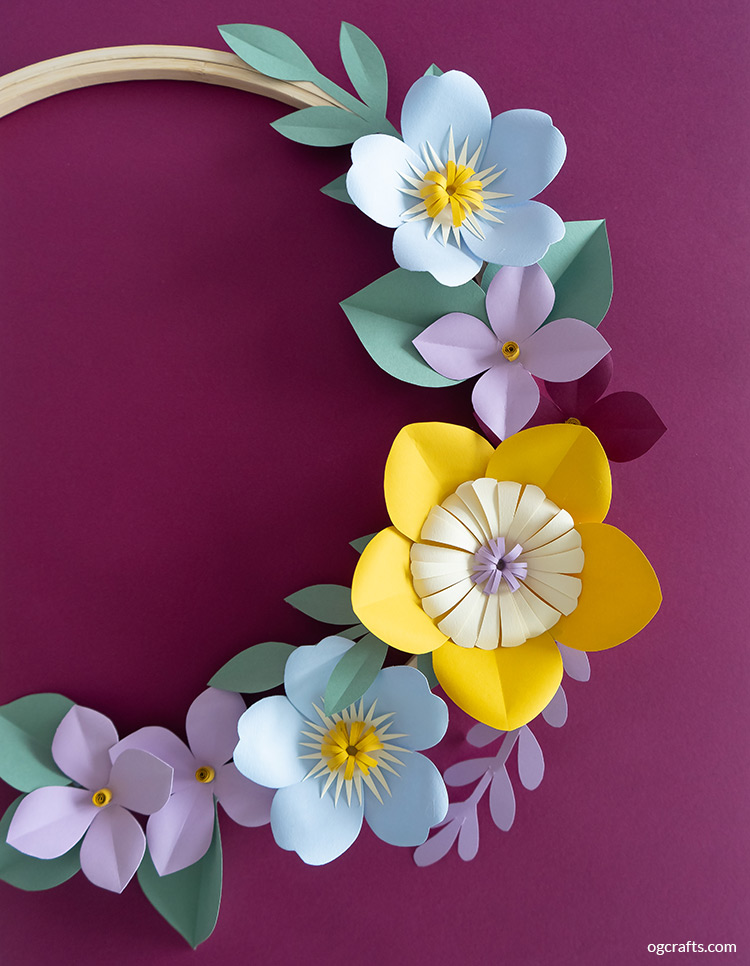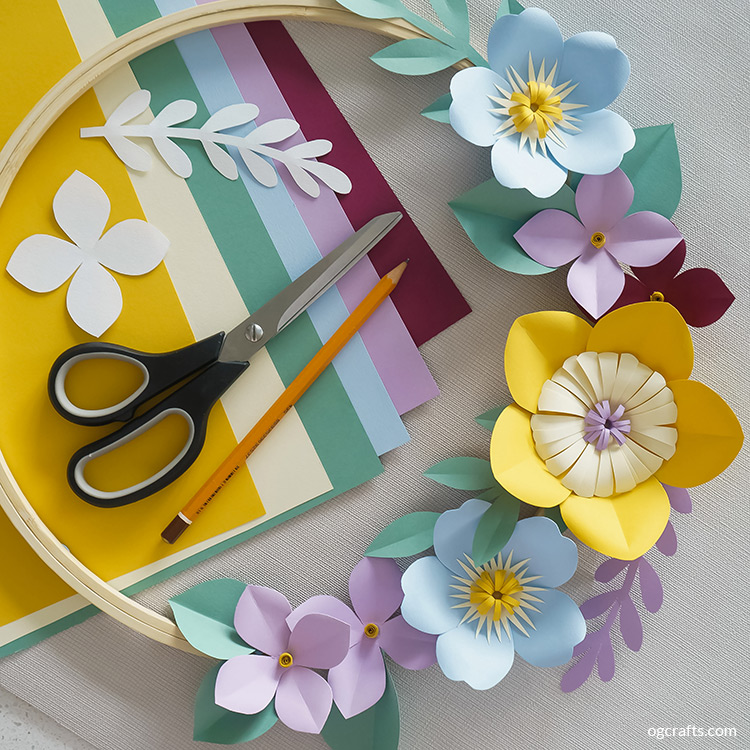 Like this project? Explore our collection of paper wreaths. Or see all of our paper flower designs for more ideas on what to make.
For more craft ideas and inspiration, join us on Instagram and Pinterest. And when you're done crafting your wreath or any other project from this site, share them with us by tagging #ogcrafts on Instagram or Facebook.
Here you can download Easy Paper Wreath SVG (for cutting machines) and PDF (for manual cutting) templates. For more information on how to work with templates, see our Cutting Machine and Template FAQ.