DIY Paper Flowers: Giant Poinsettias
Video Tutorial & Templates
These giant poinsettias are the best wall flowers to decorate your walls in winter, especially at Christmas time. They are not so fast to make, but look really amazing! Follow our step-by-step video instruction below to make your own fantastic winter decor.
In this Christmas arrangement, we have combined poinsettias of two sizes with spruce branches and four-pointed stars. But you can also create your own unique paper flower arrangements by combining poinsettias with other wall flowers and leaves (find them in SVG templates).
To hang flowers on the wall, use double-sided tape (mounting tape), reusable adhesive putty, or glue. Glue is the best choice if you are okay with ruining your wall covering and need flowers to stay attached to the wall for a long time.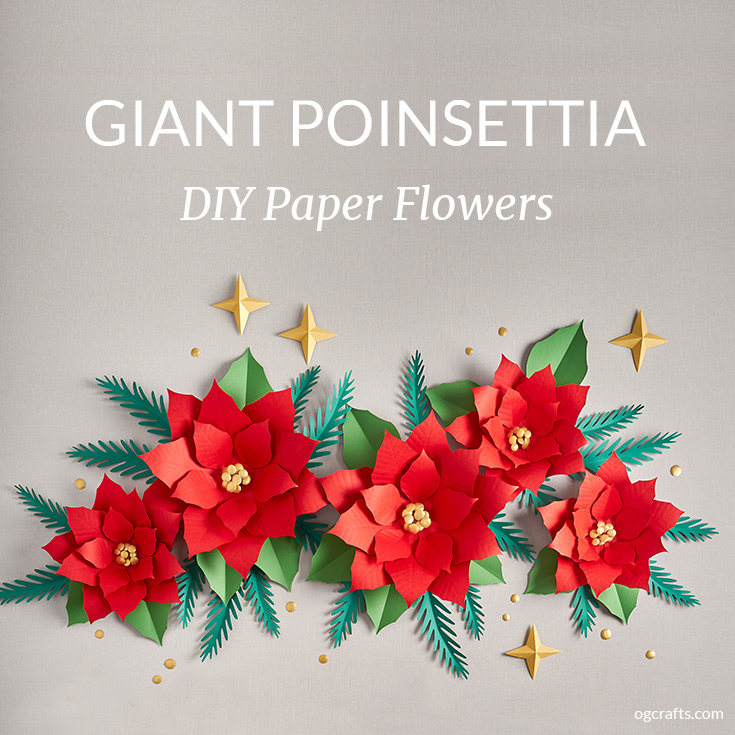 Giant poinsettias look absolutely stunning in red. But if you like calm tones, light pink or white color will be perfect.
Our step-by-step video tutorial below shows assembling a 32-cm / 12.5-inch diameter flower, but you can use the same principle to make flowers of any size. Below you can download templates for 32 cm / 12.5 inches and  25 cm / 10 inches flowers. Use a cutting machine or print the templates and cut them manually. You can also make flowers of any other size. To do that, change the settings in your cutting machine or printer.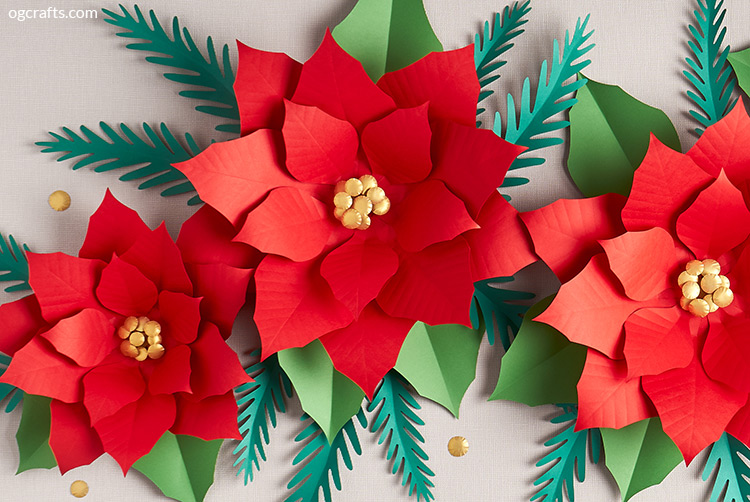 When you are ready to make your giant poinsettias, prepare the tools and materials (see the list below). Also, download the templates (you can buy them in our shop) and use a cutting machine or print the templates and cut them manually. Now you are ready – watch the video tutorial and start creating!
If you have any questions, please comment below. I'm always happy to help!
Tools
Cutting Machine

or

 Scissors

High-Temp Hot Glue Gun

Ruler
Materials
Paper of colors you prefer (I recommend 120-150 gsm weight)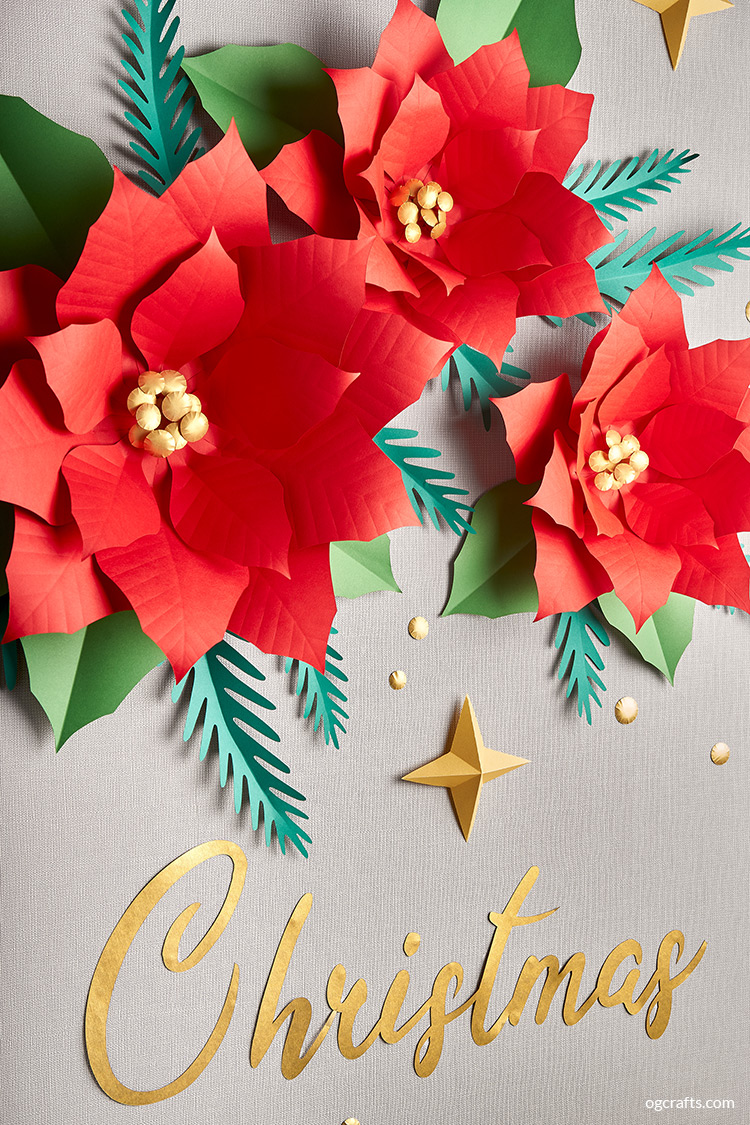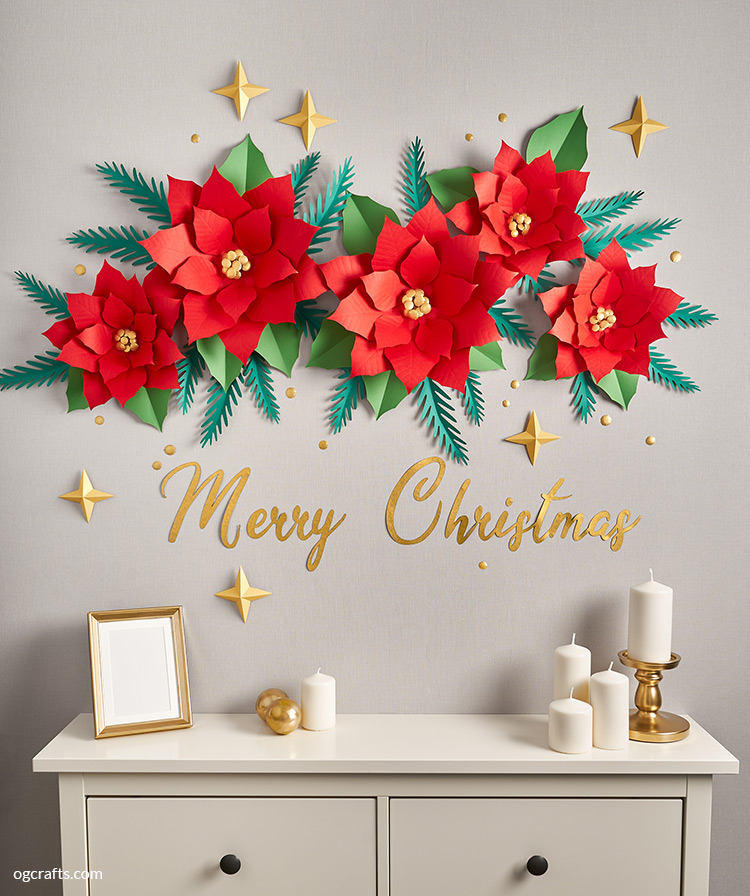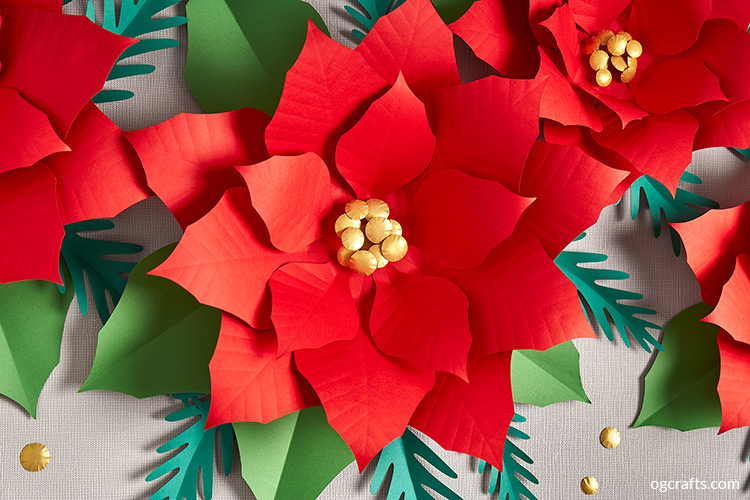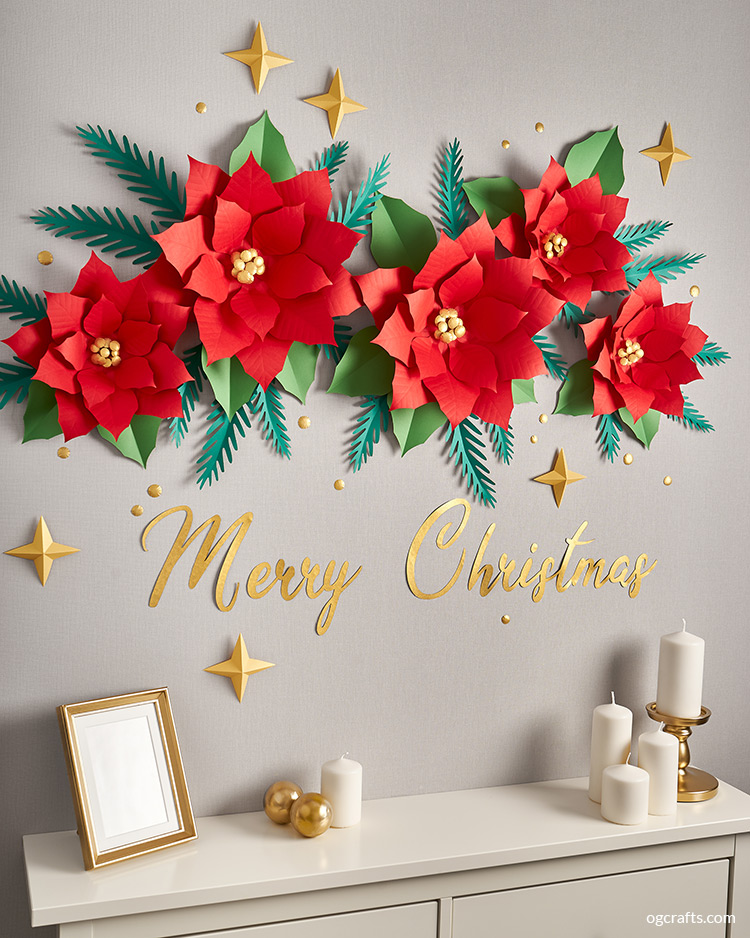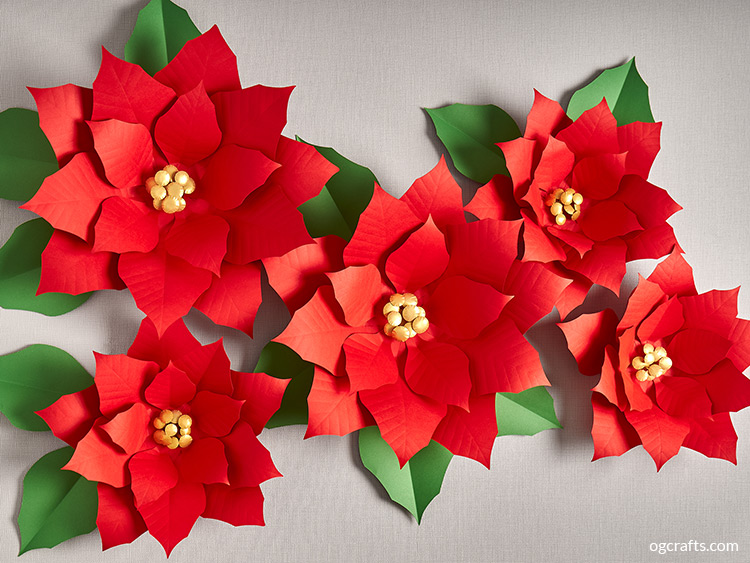 Love these giant poinsettias? Create your unique flower arrangements by combining them with other wall flowers and leaves (see SVG templates). Or see our collection of Christmas crafts for more ideas on what to make at holidays.
For daily DIY inspiration, join us on Instagram and Pinterest. And remember to share your crafts with us on Instagram or Facebook by tagging #ogcrafts.
Here you can download Giant Poinsettia SVG, DXF (for cutting machines) and PDF (for manual cutting) templates. For more information on how to work with templates, see our Cutting Machine and Template FAQ.